Like responsible people throughout the world, we spent the holidays in 2020 at home and alone, just our little nuclear family. It was a somewhat sad Christmas Eve, as my father passed away this year and our family has been feeling the weight of the pandemic. But we were abroad last year, and it was very important for all of us to get some semblance of normality.
Still, I went back and forth between making a full multi-course dinner as I usually do, or just have a main and dessert. I sort of leaned towards the latter option as we haven't been particularly hungry during the pandemic, so I wasn't sure we could even go through a full meal, even with small courses.
Ultimately, I compromised and went with something in between, a multi-course dinner but without any real frills. I served:
1 – A macaron
Actually, this came earlier in the afternoon as we were all watching a movie in the living room.
Quite nice.
3 – Ravioli in a Truffle Sauce
Mushroom & truffle ravioli from the Pasta Shop, served in a taleggio cheese, truffled butter and cream sauce and topped with black truffle shaves and fresh Argentinian Parmesan cheese.
A little bit sweet for a palate cleanser but lovely nonetheless
5 – Standing Rib Roast with Rosemary-Thyme Crust served with roasted shallots and carrots and Field Roast Hazelnut Cranberry Roast served with roasted baby potatoes and Brussel sprouts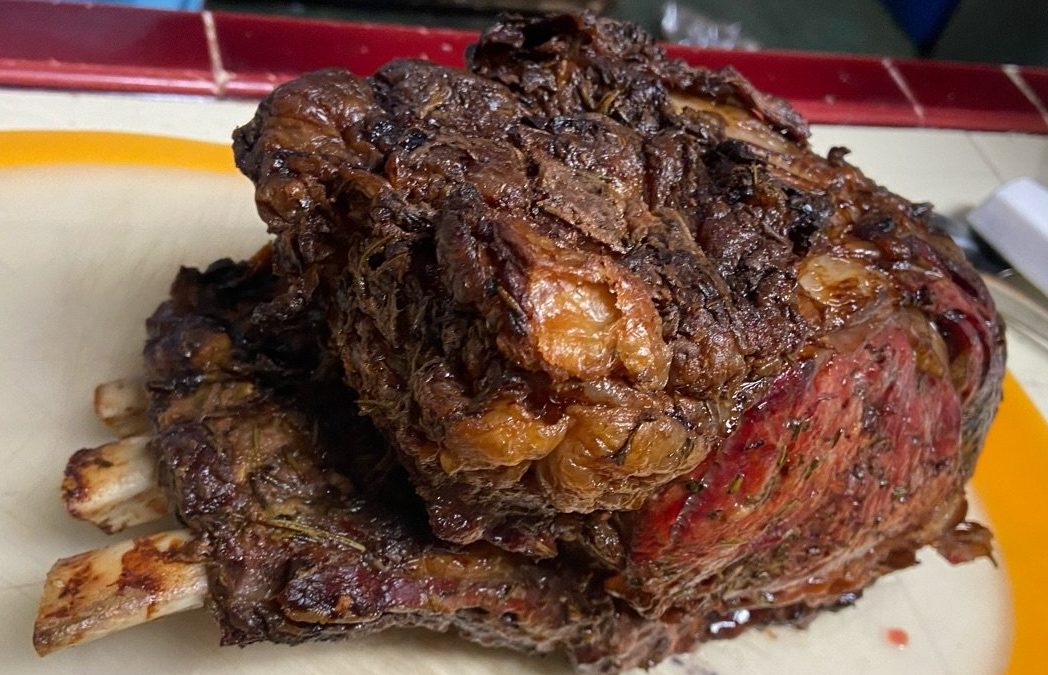 I used this recipe from epicurious.com for the standing roast. I'm not bothering to copy it because while the roast came out great, I don't think it was any thanks to the recipe. The mustard & herbs coating burned to the point of pulverization, and I'm not sure how much flavor it imparted on the meat. The roast, more over, was done by the time I took it out to add the shallots and carrots, so I had to keep it warm while these cooked – and then the shallots and carrots turned out too greasy. Still, what really matters is that the meat was great.
I served a Field Roast Hazelnut Cranberry Roast for my vegan daughter. She was reasonably content with it, but did not think it was worth the $16 I paid for it. It reminded her a lot of the Field Roast sausages she likes.
6 – Granny's Sponge Cake with Lemon Frosting
This cake turned out great, despite one of my daughters opening the oven in the middle of baking.
All in all, it was a good meal. We accompanied it with Martinelli apple cider and some delicious alcoholic apple cider I got from Argentina.