Yes, Taco Bell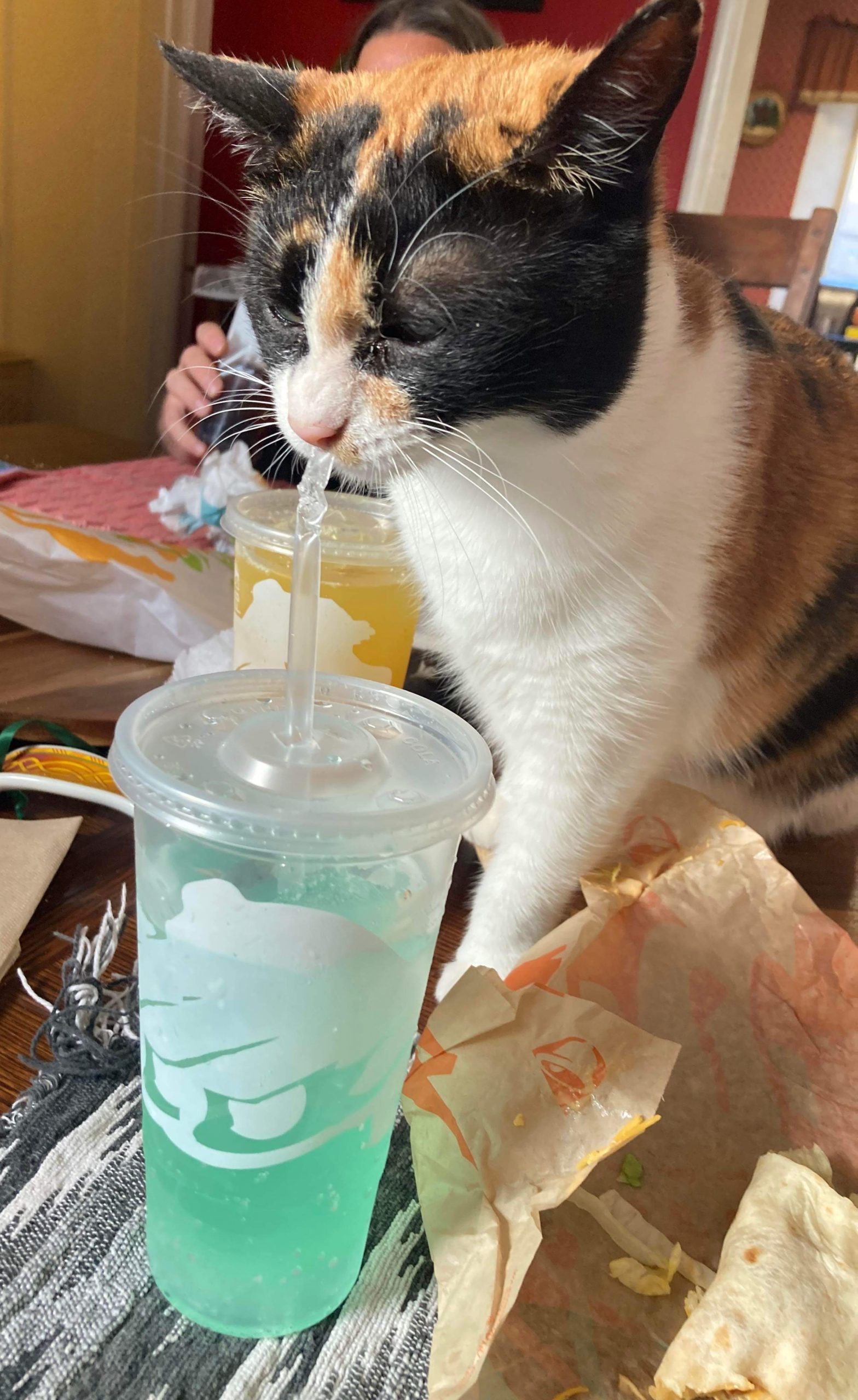 I started my Birthday Weekend Extravaganza (TM) last Thursday by getting Taco Bell for dinner. Yes, Taco Bell. No, I'm not kidding and yes, I think it's worth blogging about it. Defensive much? (I ask myself, of course).
Despite living in California for over 40 years now, I don't think I've had Taco Bell before. It's not like I'm against fast food, I've tried all the burger chains (or almost), but Taco Bell just never appealed to me. I'm not a fan of crunch, and their crunchy tacos always seemed unwieldy. Plus, really, their meat looked nasty (and then there was the whole scandal about whether it was even meat) and their tacos seemed to be mostly lettuce anyway. So I've never been tempted to try them.
Until Thursday night. My daughter was home from college, none of us could figure out what we wanted for dinner, and then she suddenly mentioned she wanted to try Taco Bell's Black Bean Crunchwrap. I had no idea of what that was, but ordering Taco Bell solved the problem of what to get for dinner, so I jumped at the idea – much to my husband's surprise ("Taco Bell? Really?").
For my first incursion into Taco Bell cuisine, I ordered a Steak White Hot Ranch Fries Burrito with extra guacamole ($4.4) and a Steak Quesadilla also with extra guacamole ($6.2). Neither were as bad as I feared. For one, by ordering "steak" items, I was able to avoid the dreaded "seasoned beef", and while the steak was just low quality meat, it wasn't actually offensive. Indeed, the steak quesadilla tasted like something I would make at home (which, btw, is why I don't make quesadillas at home, and instead get them from Taquería Los Pericos). It wasn't great, it wasn't bad, it just was. But it wasn't was a particular great value. At that price, I might as well get one from Los Pericos. The burrito was pretty similar except that it had french fries inside. I had french fries in souvlaky pitas in Greece in the past, so I was intrigued by the idea of french fries in a burrito. Alas, I'd forgotten that I no longer like french fries and I didn't like them inside a burrito either. Still, it was perfectly acceptable. Both items were too much for a single meal – I didn't have a good sense of how big they would be -, one will be enough next time.
I also ordered the cinnabon delights (12 for $5), which are cinnamon roll balls filled with glaze cream. They are deadly. Super, super sweet and I'm surprised I didn't die of a diabetic coma. But they were very tasty and one goes a long away.
My daughter tried the black bean crunchwrap supreme ($4.4). This is supposed to be a crunchy tostada wrapped in a flour tortilla but it lacked the promised crunch. Instead it was soggy and yet it tasted dry and would have benefitted from a sauce. She wouldn't order it again. She also didn't like the spicy potato soft taco. This was just potato, cheese and lettuce in a tortilla, with no sauce or anything to bring it together. IT's just $1, but not worth the calories. Fortunately, she did like her veggie White Hot Ranch Fries Burrito ($3.3), so at least she didn't go hungry. The Cinnabon twists ($1) were also good, but not as good as the delights.
All in all, I was pleasantly surprised that Taco Bell didn't suck, which is good to know for road trips and if I'm ever hungry and with nothing to eat at 2 AM – which has yet to happen.
Update: my daughter wanted to stop at Taco Bell for a breakfast burrito today so I had her get me a chicken quesadilla ($5.4). As we were in the drive through I didn't customize it, but I was actually quite satisfied with the results. It had plenty of gooey cheese and it was slightly spicy. It wasn't particularly big but works for a snack. My daughter got the Sausage Hash Brown Toasted Breakfast Burrito ($2.6) and she was quite happy with it. She's liked other breakfast burritos before but this one became an instant favorite.
Taco Bell
At 797 Marina Blvd
San Leandro, CA
Dine In M-Su 7 AM - 10 PM
Drive Through Su-Th 7 AM - 3 AM, F-Sa 7 AM - 4 AM