(Unfortunately, Plated has ended its subscription service and kits are no longer available at my Safeway).
My first experience with meal kits was a Plated kit that I bought at Safeway on a whim. I was impressed enough with it that it threw me into this project of trying different meal kit services – and taking advantage of the deals most offer when you subscribe. As it turns out, Plated is one of the more upscale meal kit services, offering more global and sophisticated meals at a premium price.

Overall, I liked Plated, but if I was going to pay full price for it, I'd just order the kits from Safeway delivery so as to minimize the packaging waste and make delivery more efficient. (Note, my Safeway now only carries a single Plated kit, but it's often discounted to about $15)
The Plans
Plated offers kits for 2, 3 or 4 people. You can order 2, 3 or 4 kits per week. The cost per serving is $10 orders if you order kits for 3 or more people, or $12 if you order a kit for just 2. The typical box with 3 kits for 2 people each, costs $72/week. Shipping is free for orders over $60, and $8 for those below.
As mentioned above, you can also buy Plated kits at some Safeway supermarkets and other supermarkets owned by Albertsons – you can check here whether any is near where you live. At the supermarket you can only find kits for 2 servings and these cost between $20 and $24, depending on the specific meal.
Like other companies, Plated provides incentives to sign in. Right now they are offering 25% off your first 4 boxes. After cancelling, I've received offers from Plated to resubscribe for 40% off on my first box.
The Food
Plated has probably the largest selection of meal kits in the industry. They offer 20 choices per week! They do repeat many meals from week to week, however. Unlike other services, they don't have "premium" meals – but they also don't have premium ingredients such as fillet mignon or large scallops. Note that only up to 4-6 meal kits are offered at the supermarket.
Of all the services out there, Plated probably offers the most "international food" choices, including some from lesser known cuisines (e.g. Indonesian Beef Rendang, Hungarian Meatballs). I can imagine this would be particularly attractive for people who don't live in areas with many ethnic restaurants. I also appreciate that Plated offers many "fusion" dishes (e.g. curried lamb tacos, spanakopita grilled cheese sandwiches), that push beyond what most of its users are likely to have tried before. I cook a lot of international food, but a big advantage of using Plated's meal kits is that they do away with the need to hunt for specialized ingredients and then have to buy them in far greater quantities that what you need for the recipe you are making.
Plated offers varied recipes vis a vis ingredients as well. They have four vegetarian offerings weekly and three seafood dishes. They don't cater to any specific diet, however, and they seldom offer vegan meals.
Ingredients seem to be fresh and of good quality, but I've had some problems, such as having steaks sent of very different thickness.
The Shipping and Delivery
I was able to get my meals on a Tuesday. The day before they sent me an e-mail reminding me my delivery would be the next day and giving me the tracking number. They can deliver as late as 8 PM, though I got mine during the day. My order was fine.
The Packaging
Plated kits came in a cardboard box, just like the other services. Inside it I found the recipes for the meals and, after lifting the liner, the ingredients. Meats were packed between freezer packs at the bottom of the box. Heavy ingredients were in plastic bags, organized by recipe. On top of them were lighter, more fragile ingredients (leaf vegetables).
The cardboard box can be recycled, but the rest of the ingredients can't.
Plated supermarket kits come in a large plastic box, which an theoretically be recycled. Most of the ingredients are in their own plastic bags. There is a lot of packaging waste, but it's hard to say whether it's more than what you usually get at the supermarket.
The Results
I've cooked several meal kits, as well as a couple of other Plated recipes using my own ingredients.
Argentine Beef Empanadas with Chimichurri and Monterey Jack

Empanadas are my signature dish – and these were pretty good.

Persian Chicken with Carrots & Jeweled Rice

A very nice dish

Seared Steak with Goat Cheese Potatoes and Mushroom–White Wine Sauce

The worst part of the meal was the steak.

Chicken, Goat Cheese & Spinach Salad

A very satisfying and tasty dish

Plated's Steak au Poivre with Crispy Fingerling Potatoes

Phenomenal sauce

Sherry-Marinated Steak with Potatoes and Creamy Tomato Sauce

Another winner, the tomato sauce was addictive.

Rosemary Pork Chop with Fig Compote and Chive Butter Potatoes
A nice and sophisticated meal.

Seared Steak with Blue Cheese Butter and Spinach-Beet Salad
A delicious, simple and logical dish.

Plated Scallop Penne with Mint-Spinach Pesto, Roasted Mushrooms, and Walnuts
It turns out that I don't like scallops, but the spinach pesto was a revelation.

Vietnamese Beef Meatballs over Rice with Chile-Lime Dressing
The dish that started it all.
I've made a couple of meals based on Plated recipes: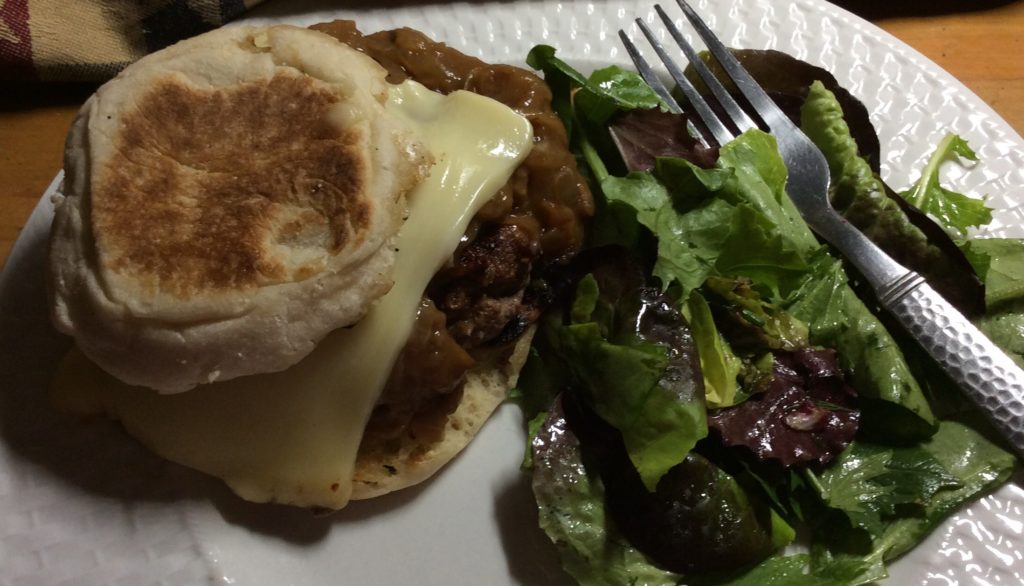 Plated's Chicken Marsala/Madeira with Roasted Fingerling Potatoes
A very good version of one my favorite dishes.
In all, I'm a bit conflicted about Plated. I love their choice and their international and fusion offerings. I don't love the price and the food has not awed me. I plan to continue getting the occasional kit from the supermarket, but I probably wouldn't surprise without a great offer.
I got my two weeks of Plated using a Black Friday coupon that saved me $40 out of my first two boxes. That means I paid $8 per 2-serving kit I got. I paid full price for the one I bought at the supermarket. I later got more weeks at 40% off one box.