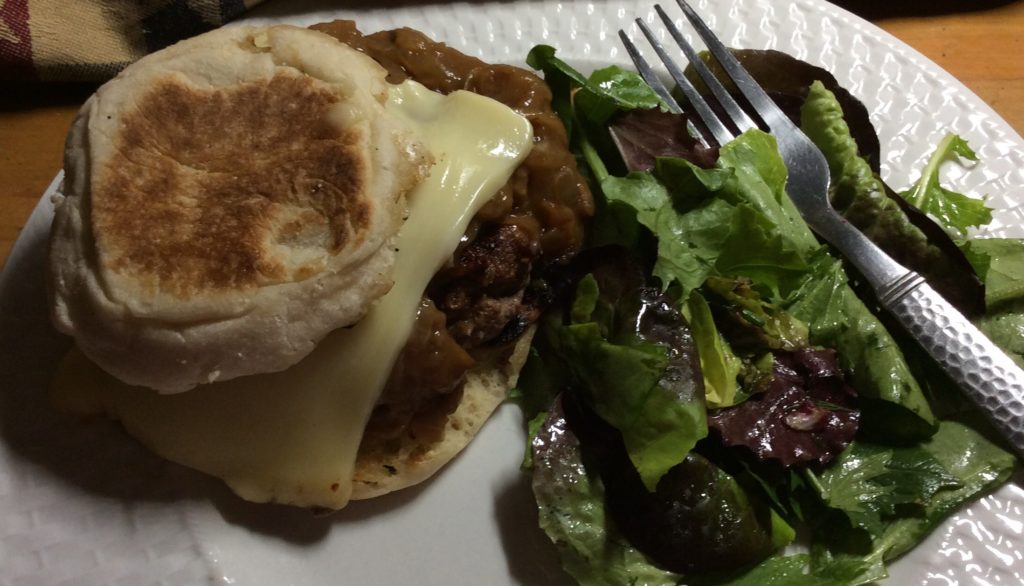 Rating: 5/10
I have recently started trying "meal kits" and while I love the idea of simple meals I can make in under an hour, I hate how expensive they are.  At $20-$28 per entree for two people, they cost about the same as take out and there are no leftovers!  Still, they are super convenient.
Today, I decided to try to recreate one of those kit-meals buying the ingredients myself to see how they worked and whether I saved money.  Now, if you are a professional billing $500/hour (or even $100), the time spent at the supermarket hunting these ingredients will surpass any savings you may have – so these meals are really ideal for people for whom time is literally money.  But my time is far cheaper than that.
I chose this recipe for French Onion Burgers with Gruyere and Arugula because I had read good things about it while looking through Plated reviews and it has fairly common ingredients, which I hoped I could easily find at the quirky discount grocery store near my house.  I wasn't able to get all the ingredients I needed, but I think the substitutions worked well enough.  I haven't tried the Plated kit dish, so I don't know how it compares to mine as far as flavor goes, but I don't think it's likely to have been significantly better.  My version was far cheaper, however. While the Plated meal for 2 costs between $22 and $28, depending on where you buy it, I spent a mere $15 in groceries and had enough food for 3 people (alas, neither of my kids would eat this, so we have leftovers for tomorrow) with groceries remaining.
Here is a list of the ingredients in the recipe, what I bought and the price.
| | | |
| --- | --- | --- |
| PLATED Ingredient | My Substitution | Cost |
| Beef Stock, 1 container | Beef broth, 1/2 cup | pantry |
| Yellow Onion, 1 small | Yellow Onion, 1 regular | $0.70 |
| Thyme, 1/8 oz. | Living thyme plant | $2 |
| Lemon, 1 | Lemon, 1 | $0.80 |
| Ground Beef, 12 oz | Ground Beef, 16 oz | $3.50 |
| English muffins, 2 | English muffins, 3 | $2.80 |
| Baby Arugula, 3 oz | Mixed Greens, 5 oz | $3 |
| 1 Tbsp | Flour, 1 Tbsp | pantry |
| Gruyere, 2 slices | Processed Gruyere Cheese product, 7 oz | $2.20 |
| Unsalted butter, 3 packets | 1 Tbsp | pantry |
| Dijon mustard, 2 packets | Coarse Dijon mustard | pantry |
| TOTAL | |  $15 |
Note that I had to substitute baby arugula for mixed greens as all the packages of baby arugula at the grocery store had expired yesterday.  The price was the same than for the mixed greens, however.
Where I did save a lot of money was by using "Gruyere cheese product" instead of Gruyere.  Unfortunately, my discount grocery store didn't have it and I decided to substitute with this product as at least it had Gruyere as its main ingredient.  Alas, it didn't take anything like Gruyere and rather it was a more solid version of Laughing Cow cheese.  Delicious, but far cheaper and different than real Gruyere.  In reality, I don't think the substitution mattered – the flavor of the onions was so strong that I doubt any cheese would have broken through.  The cheese did add to the creaminess of the burger, however.
All in all, I felt the burgers were interesting and tasty but the combination of burger and fresh onion flavors wasn't a big winner for either me or my husband.  I sort of liked the English muffing for a bun substitution, but that's because I was smart enough to eat the burger with knife and fork.  My husband didn't and wish he had a bun instead.
Neither of us were that fond of the lemon juice/olive oil dressing on the greens, however.
Still, I'm left with 4 English muffins I can have for breakfast, some newly discovered and delicious cheese "product" I'll eat as a snack (indeed, it's so fun and unexpected that I may serve it as part of my Xmas cheese course), some more greens to eat as a salad and a very cool thyme plant.  I can't complain at all.