Posted: May 11, 2019 |
Author:
marga
|
Filed under:
Meal Kits
,
Methods
|
Tags:
chicken
,
Plated
,
rice
|
Leave a comment »
Rating 8/10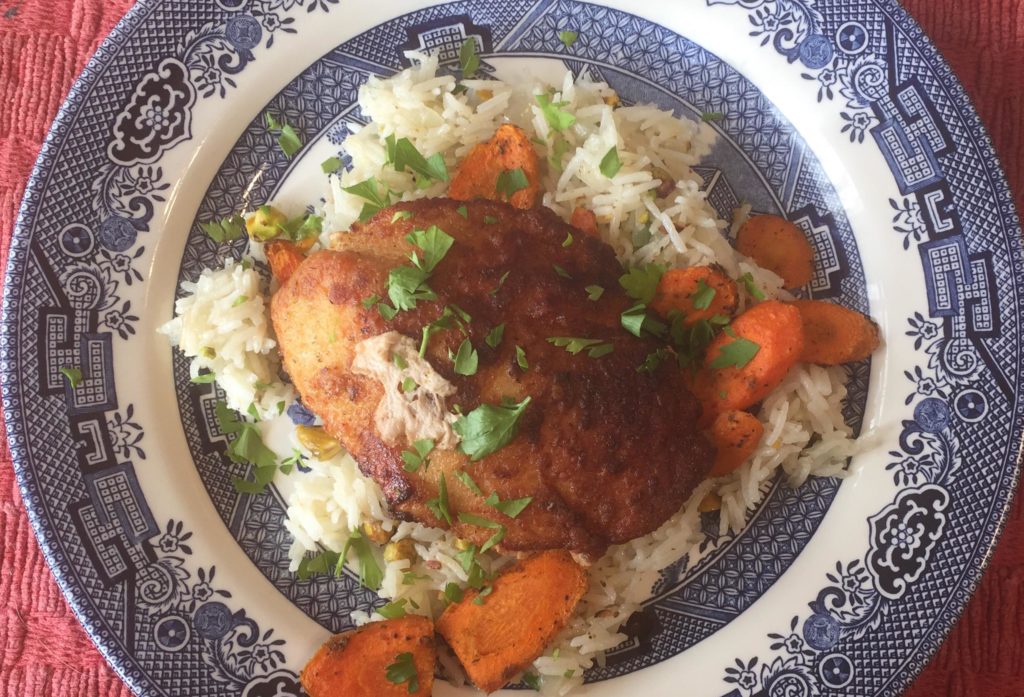 One of the things I like most about cooking from meal kits are the little things I learn that, despite cooking for the last 30 years of my life, I have not figured out on my own. Sometimes they are techniques, and sometimes they are simple recipes. This time, it was a bit of both. I have cooked rice before by sauteing an onion and then the raw rice before adding the water. But I was amazed at what adding just a stick of cinnamon does for rice. It really elevates it to another level. And simmering basmati rice for 10 minutes and then letting steam in its own heat for another 10, is a wonderful technique as well.

In all, this was another winning recipe by Plated. The chicken was good as were the carrots, and it all came well together. My picky 14-yo was happy.
I also loved how Plated sent me all the ingredients I needed, including the flour!

I paid a tad over $13 for this kit, with a welcome back promo, or about $7.65 per person,  which was quite fair for the quality of the food and the convenience.
---
Posted: October 22, 2018 |
Author:
marga
|
Filed under:
Meal Kits
,
Recipes
|
Tags:
Hello Fresh
,
meal kit hacks
,
rice
,
sauces
,
tofu
,
vegan
|
Leave a comment »
Rating: 7.5/10
HelloFresh does not have many vegan meals, so I was happy to find this recipe for Sesame-Crusted Tofu with Spicy Peanut Butter Sauce & Garlic Bok Choy that I could hack for my vegan daughter.  While it wasn't a complete dinner – we have yet to find a way to make tofu taste like anything but tofu, outside of deep frying it -, my daughter loved the peanut sauce and enjoyed the coconut rice, I'll be making both of those again (see recipes below).   She hadn't had bok choy before, and she won't again – she found this vegetable utterly tasteless, even with the peanut sauce.  Fortunately, there was extra broccoli from our meal for her to eat.   Most importantly, she totally appreciated that I made her food.  Given that she's the only vegan in the family, she often is on her own as far as cooking goes, so any time I cook for her it's a treat.
Making this meal at home was rather cheap, as most of the ingredients are those you are likely to have in your pantry (peanut butter, rice, soy and hot sauce, sesame seeds), and those you don't are cheap to buy.  In all, I spent under $6.50 in this meal for two people.  HelloFresh charges $20-$24 for the same food.
| | | |
| --- | --- | --- |
| HelloFresh Ingredients | My Ingredients | Cost |
| 1 block tofu | 1 lb tofu | $2 |
| 2 baby bok choy | 2 baby bok choy | $2.60 |
| 1 Tbsp sesame seeds | 1 Tbsp sesame seeds | pantry |
| 2 Tbsp peanut butter | 2 Tbsp peanut butter | pantry |
| 1 can Lite Coconut Milk | 1 can Lite Coconut Milk | $1.25 |
| 1 cup basmati rice | 1 1/2 cups Jasmine rice | pantry |
| 2 cloves garlic | 2 cloves garlic | pantry |
| 1 lime | 1 lime | $0.50 |
| 1 cup Panko Breadcrumbs | 1 cup Panko Breadcrumbs | $1 (for 8-cup ox) |
| 1 tsp hot sauce | 1 dash siracha | pantry |
| 2 Tbsp soy sauce | 2 Tbsp soy sauce | pantry |
If you'd like to subscribe to HelloFresh use this link to save $40 off your first box, and I'll get a $30 credit – which I probably won't use as I'll be unsubscribing form HelloFresh shortly to try a different company.
Coconut Jasmine Rice
1 1/2 cups Jasmine rice
1 1/4 cup light coconut milk
1 1/4 cup water
dash of salt
Rinse rice.  Put coconut milk, water and salt in a medium saucepan and bring to a boil.  Add rice, cover, reduce heat to low and simmer for 20 minutes.  Fluff with a fork before serving.
Peanut Butter Sauce
1/4 cup coconut milk
2 Tbsp peanut butter
1 Tbsp soy sauce
1 clove of garlic, minced
1 tsp sugar
squeeze of lime juice
a dash of hot sauce
Mix all ingredients together in a small bowl.
---
Posted: December 30, 2007 |
Author:
marga
|
Filed under:
Recipes
|
Tags:
beans
,
Belize
,
rice
|
6 Comments »
I got the following message today in response to my failed attempt at cooking Belizean rice and beans. I thought I'd share it with all of you who want to know how to do it right. Thanks Dorla!
—————————————————————————————————————————————-
I saw your recipe for the above dish from Belize. I wanted to share my
mother's recipe with you, and see if you like this one better. The idea is
to make the rice somewhat fluffy, but not sticky, so after you add the rice
to the beans, as shown in step 5, stir (only once), after 30 mins the rice
will need to fluffed with a fork, and at that time, you will know the
consistency, and if a little water is needed, you sprinkle a little around
the edge of the pot and in the center, but I have made this recipe a
thousand times, and did not need any water. I also use long grain rice, and
it comes out perfect every time.
Ingredients
1 lb. Red Kidney Beans 2 plugs Garlic (crushed)
1 tsp. Salt 1 cup coconut Milk (either squeezed from grated coconut or bought prepared, canned, or made from powered variety)
½ tsp. Black pepper
½ tsp. Thyme 2 lbs. cleaned Rice
1 medium Onion (sliced) 6-8 cups of water
(optional) 1 small pigtail or salt beef or pieces of bacon
Method
1. Wash the beans, then soak beans for 4 hours, using the 6-8 cups of water.
If you are using distilled water, then soaked beans only needs 2 hours to
soften.
2. Boil beans until tender, with the garlic, onion and pig's tail/or salted
beef or bacon pieces. Note: pre-wash the pigtail or salt beef and cut off
excess fat. You can use a pressure cooker to cut down on the time.
3. Season beans with black pepper, thyme and salt. Note: You may opt not to
add the salt if you used salt beef or pigtail above.
4. Add coconut milk. Stir and then let boil.
5. Add rice to seasoned beans. Stir, then cover. Cook on low heat until the
water is absorbed and rice is tender. If necessary, add more water gradually
until rice is tender. Note: Usually, one cup of rice absorbs two cups of
water, although rice grains can vary in the amount of water they absorb. To
warm up leftover rice-and-beans, you can sprinkle with water to re-moisten.
---