They literally mean "bag"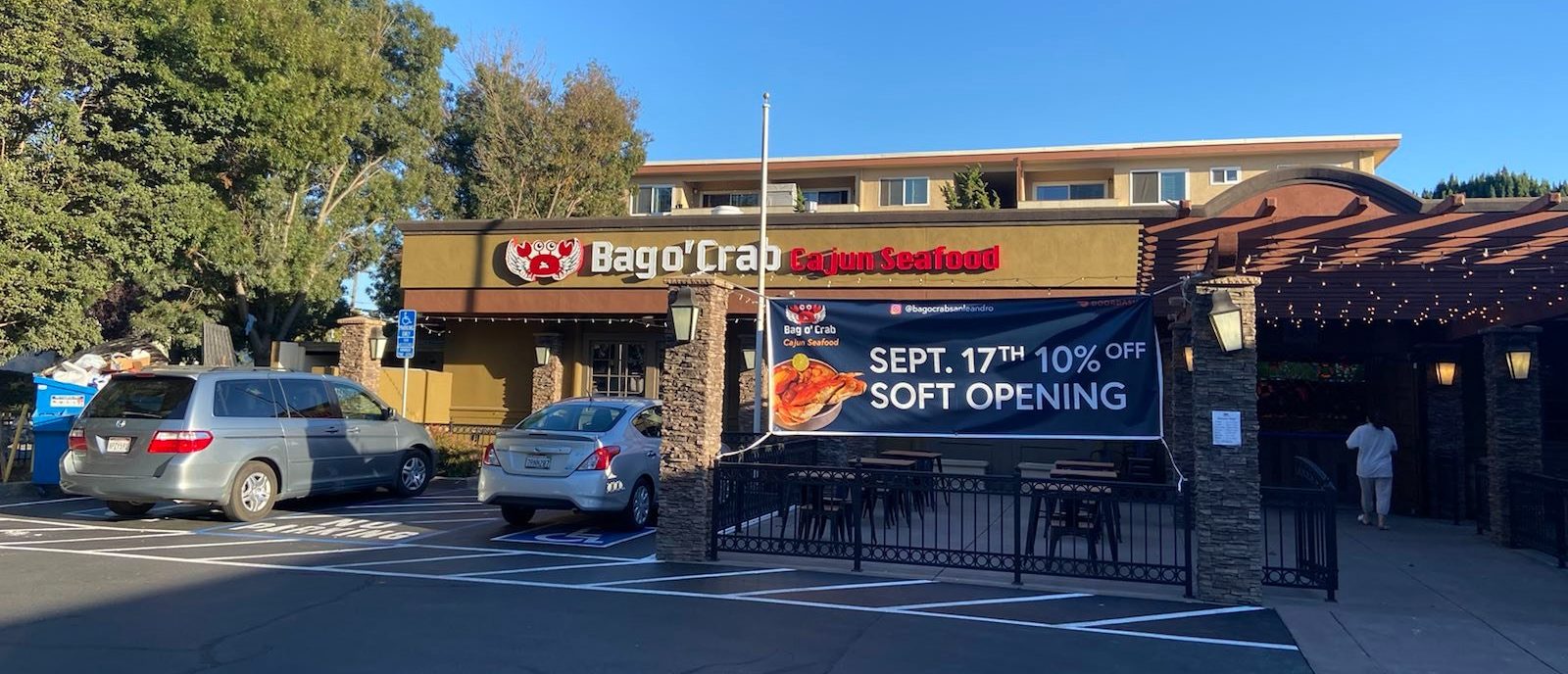 A new Bag O'Crab franchise opened in the old The Englander spot in San Leandro, which is sad in many, many levels. My husband decided he had to try it out. While I'm not a fan of crab myself, a quick look at the menu assured me they had other stuff, including wings and fried fish, so I said I was game. He got take out and brought it home. I don't think we're going to make it a regular haunt.

Bag O'Crab's menu consists of seafood and chicken cooked in a variety of ways. You can have different flavors of chicken wings ($8/$13 for 6/10 pieces) and french fries ($4/4.5), fried fish/shrimp/calamari/oysters/chicken tenders ($11-14), fish/chicken/shrimp po' boy sandwiches ($12), a $25 lobster roll, grilled shortribs ($13) and cajun fish ($12) and a few soups, saladas, pastas and sides. But the main attraction, as suggested by the name of the restaurant, are their bags of seafood cooked in your choice of sauce at your choice of spiciness. These are sold by the pound and in combinations. My husband went for the bag of head-off shrimp, in a medium spiciness original cajun sauce ($16 for 3/4 lbs); he wasn't impressed
The first disappointment was the bag. Now, we definitely can't accuse Bag O'Crab of being circumspect about the fact that their bags of seafood are exactly that: plastic bags filled with seafood and sauce. It's in the name of the store, after all, and of the particular dish he ordered. Still, we didn't expect that they would be so literal – having the dish come in a transparent plastic bag seemed precarious and cheap. I'm assuming these are food grade plastic bags they are using, but it feels weird as they don't look that way. They are also unwieldy and not exactly something you want to store as-in in the fridge.


I will admit that my husband is somewhat of a lazy eater. Other people may enjoy nothing more than cracking crab legs, gnawing at bones or cooking their own food at restaurants – but he wants all the work done for him in the kitchen. Thus, he was quite unhappy to find out that the head off shrimp, while indeed being devoid of heads, still had their exoskeleton (his word) on. Deshelling shrimp is never fun, but particularly not when the shrimp comes in a thin sauce. Needless to say, he wouldn't order this again.

I should ad, that he did enjoy the flavor of the sauce, and it was correctly spiced. So there is that.

I, meanwhile, decided on the fish po' boy sandwich ($12) with a garlic fried upgrade ($1 additional). The fries were pretty standard, thinnish and with a nice garlic flavor. It's the type of fries you can eat a a handful of, and be done. The sandwich itself was too heavy for me. I think the combination of the oil from the fried fish and the dressing/remoulade was too much. I could only eat about half of it. Now, that's not necessarily a bad thing, and I did enjoy having the other half for lunch. Still, I can't see ordering it again.
Indeed, I don't see us returning to Bag O'Crab which I think it's a good thing. Their website does not mention where they source their seafood from, and given the widespread use of slave labor in producing sea food – not to mention sustainability issues – I find this very problematic.

With this, I hope our foray into chain restaurant eating is over. And, indeed, it's inspired me to do more cooking at home going forward.
Bag O'Crab
101 Parrott St
San Leandro, CA
(510) 878-9965