Posted: June 18, 2015 |
Author:
admin
|
Filed under:
Food Items
,
Shops & Markets
|
Tags:
candy
,
candy club
,
food subscription boxes
|
Leave a comment »
Candy Club: Up to 3 lbs old-fashioned candies, $34/month
Promo: fbtreatyourself20 for $20 off your first box
I paid: $14 with promo, box value: $
To unsubscribe: call 888-598-5995, quick & easy

The Candy Club is a monthly subscription that sends you 2 to 3 pounds of old fashioned candies every month. Boxes come with 3 plastic jars of lose candy and individually wrapped candies filling up the rest of the box. The box is also supposed to include a "surprise confection", generally a wrapped cookie or candy bar, but it was missing from my box. I didn't notice until now, which makes me sad as it would probably have been my favorite item in the box. The candy containers look pretty cool, but they are actually made of thin, flexible plastic – so they are not really reusable.
This boxed is supposed to have a retail value of $60. To me, that seems impossible. I came up with a $16 value for this box, using online prices. Now, those values are calculated based on the purchase of much larger quantities, but even at regular candy stores, lose candy goes for $8-$12 a lb. I got 2 1/2 lbs of candy so, at the most, this box is worth $30. It was a deal at the $14 price I paid, but not much of one at the $34 cost of subsequent boxes. Fortunately, cancelling was easy. I just called the number and was unsubscribed without



Sour Power Candy Belts
in Wild Cherry, 9 oz, $2.5
These were sour, really sour. I had trouble eating even the tiny piece I tried. My children, however, enjoyed them.






Gimbal's Sour Gourmet Jelly Beans
, 14 oz, $8.5
I also found these to be incredibly sour, though quite tasty after you were done with that. Nobody else in my family found them sour, however, showing their taste buds are gone. Enjoyable but not better than regular Jelly Belly's.
Gimbal's Red Licorice Scottie Dogs, 10 oz, $5
I didn't realize these were made of licorice until I just checked what they were call to write about them. You would have fooled me, they don't taste at all like licorice. That's a good thing as I hate licorice. That said, these didn't taste of much anything. Everyone at my house agreed these were not worth the calories.

Sweet's Cotton Candy Salt Water Taffy
, ~7 oz, $2.5
These were everyone's favorites. Really delicious taffy that really tasted like cotton candy. I may very well buy some more of these in the future.
Check out my other subscription box reviews.
---
Posted: March 14, 2015 |
Author:
admin
|
Filed under:
Cafes, Bakeries, Ice Cream...
,
Food Items
|
Tags:
food subscription boxes
,
OrangeGlad
|
Leave a comment »
OrangeGlad, sweets from artisan bakeries, $22/month
Promo: LACOOKIES15 for 40% off or SPRING30 for 30% off
OrangeGlad is a subscription box that sends you goodies from bakeries around the country. It's a great concept but it's pretty expensive at $22 a month, in particular because they send very few treats. This box had a value of approximately $15. They do have coupons, though, and if you catch a good one and use it on a 6 month subscription, you can bring your costs to the low teens. I got this box with a $15 off coupon, so I only paid $7. It was worth it for that price.
Apparently the box used to have packaged much more nicely. It's pretty utilitarian now. This is what it had:
Itty Bites from OrangeGlad
Chocolate Almond Macaroon from Smackaroons
Kiss Me I'm Irish Cake Pop by Sweet E's Bake Shop
Russian Tea Cakes from Lark's Fine Foods
San Juan Sea Salt Milk Chocolate Truffle Bar by Seattle Chocolates
Itty Bites from OrangeGlad, bag of 10, est value $5
These are cute and tiny little shortbread cookies. I'm estimating their value because they are not currently for sale at OrangeGlad. Unlike regular shortbread these were pretty short and came with instructions to eat right away (as if I wouldn't). We all thought they were delicious.
Chocolate Almond Macaroon from Smackaroons, 1 macaroon, value $1.25
This was your run of the mill macaroon. Delicious like macaroons are. I did find it a little dry, however, which is to be expected.
Kiss Me I'm Irish Cake Pop in red velvet by Sweet E's Bake Shop, value $3.75
I love red velvet cake and this cake pop was very good – but also pretty generic as far as red velvet cake goes.
Russian Tea Cakes from Lark's Fine Foods, 3 cookies, est. value $1.15
I'm a fan of Russian tea cakes and these were delicious – though a bit on the dry side.
San Juan Sea Salt Milk Chocolate Truffle Bar by Seattle Chocolates, value $3.5
This was probably my favorite item in the box. Oh so good. Unfortunately I left it out and my dog ate most of it. But I'll keep an eye for these bars 'cause they are yummy.
Unsubscribing from OrangeGlad was quick and easy, just took an e-mail.
---
Posted: February 27, 2015 |
Author:
admin
|
Filed under:
Food Items
,
Snacks
|
Tags:
food subscription boxes
,
Love with Food
,
reviews
|
Leave a comment »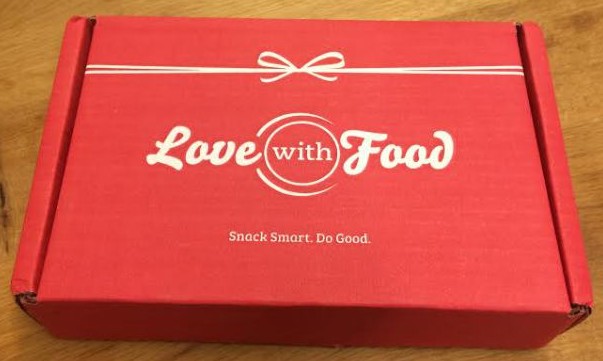 Love with Food, $12/$20 a month snack subscription ($29 for gluten-free box)
Promo: 50% off first box by using my link, GFLS = 50% off gluten free box, Groupon for deluxe box ($10 for 1 month/$26 for 3 months)
I paid: $2 with expired promo

As part of my general addiction to subscription boxes, I've ventured into the realm of subscription snack boxes with its most heavily promoted box: Love with Food. This box features a variety of not-too-bad-for-you snacks, both from niche and heavily distributed brands. The monthly subscription is $12, though you can get your first box for a discount by using my referral link (or any other referral link you find).
The snacks were all good, and I definitely enjoyed them at the $2. However, the total cost of the snacks included in the box came up to $7 – so I'd have been bummed if I'd paid full price for the box. Needless to say, I unsubscribed, which was a very quick and easy process, though it involved filling out a survey but that was actually a plus, as it gave me the opportunity to tell them why I was cancelling.
This is what I got in my box:
Snikiddy Snacks Mac N' Cheese Puffs
, 1 .75 oz package (65 cents)
My 12-year old really liked these mac n' cheese puffs. To me they tasted somewhat citric and not at all cheesy. She felt they tasted like mac & cheese (which I, personally, avoid). Other pluses, non-GMO and gluten free. The main ingredients are corn, rice flower, oil, whey, cheddar cheese and buttermilk. The package had 90 calories. Not a bad snack.
Made in USA
Boulder Canyon Olive Oil Totally Natural Kettle Chips
, 1.5 oz ($1.50)
These are pretty good, run-of-the-mill kettle chips. I like that they contain only three ingredients: potatoes, olive oil and salt. And I like that they are not too greasy and not too hard. I think they need more salt, however. They mostly taste like plain chips, with the olive oil only giving them a hint of bitterness. I did quickly finish the whole package (220 calories), but I was pretty much full afterwards. I'd buy them. They are made in the USA and they are available at some supermarkets.
Honey Stinger Peanut Butter'n Honey Energy Bar
, 1.75 oz bar, ($2)
This was a pretty tasty bar.  I can't say that it was particularly delicious, and I did find it too sweet, but I enjoyed it.
Made in USA
Dolcetto Petites Lemon Wafer Bites, .7 oz (85 cents)
These lemon wafers are delicious. They are crispy wafers, filled with a sweet, lemon-flavored creamy filling, not too unlike those in lemon cookies. They are full of flavor, and much lighter than a cookie. The packages are tiny, but at 100-calories they should satisfy your need for a bit of sugar. They seem to be made in Indonesia, and they have sugar rather than corn syrup.
Dilettante Toffee Crunch Truffle Cremes No. 39, 2 candies (70 cents)
These are nicely sized (perhaps even a little too big for a bite), and quite tasty – but I found them to be too smooth for my taste – I prefer more crunch. Definitely a nice treat, though. Each candy has 55 calories and they are made in the USA
Mombana Traditional Hot Chocolate, 1 envelope (70 cents)
I still haven't used it.
Enough for 1 8-oz cup. Made in the USA.
Divine Milk Chocolate Mini Pieces, 2 5 gram pieces (50 cents)
Nice, tasty chocolate.  Not exceptional, but a nice little treat.  They sell this occasionally at Grocery Outlet.
Tony Chachere's Original Creole Seasoning
, 2 sample envelopes (no value)
Available at Walmart for less than $3 for a 1 lb jar.  The samples are tiny and I can't imagine I can really try them, but maybe I'll sprinkle them on something.
---