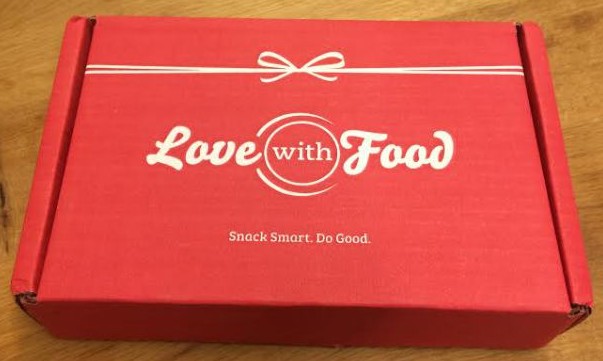 Love with Food, $12/$20 a month snack subscription ($29 for gluten-free box)
Promo: 50% off first box by using my link, GFLS = 50% off gluten free box, Groupon for deluxe box ($10 for 1 month/$26 for 3 months)
I paid: $2 with expired promo

As part of my general addiction to subscription boxes, I've ventured into the realm of subscription snack boxes with its most heavily promoted box: Love with Food. This box features a variety of not-too-bad-for-you snacks, both from niche and heavily distributed brands. The monthly subscription is $12, though you can get your first box for a discount by using my referral link (or any other referral link you find).
The snacks were all good, and I definitely enjoyed them at the $2. However, the total cost of the snacks included in the box came up to $7 – so I'd have been bummed if I'd paid full price for the box. Needless to say, I unsubscribed, which was a very quick and easy process, though it involved filling out a survey but that was actually a plus, as it gave me the opportunity to tell them why I was cancelling.
This is what I got in my box:
Snikiddy Snacks Mac N' Cheese Puffs
, 1 .75 oz package (65 cents)
My 12-year old really liked these mac n' cheese puffs. To me they tasted somewhat citric and not at all cheesy. She felt they tasted like mac & cheese (which I, personally, avoid). Other pluses, non-GMO and gluten free. The main ingredients are corn, rice flower, oil, whey, cheddar cheese and buttermilk. The package had 90 calories. Not a bad snack.
Made in USA
Boulder Canyon Olive Oil Totally Natural Kettle Chips
, 1.5 oz ($1.50)
These are pretty good, run-of-the-mill kettle chips. I like that they contain only three ingredients: potatoes, olive oil and salt. And I like that they are not too greasy and not too hard. I think they need more salt, however. They mostly taste like plain chips, with the olive oil only giving them a hint of bitterness. I did quickly finish the whole package (220 calories), but I was pretty much full afterwards. I'd buy them. They are made in the USA and they are available at some supermarkets.
Honey Stinger Peanut Butter'n Honey Energy Bar
, 1.75 oz bar, ($2)
This was a pretty tasty bar.  I can't say that it was particularly delicious, and I did find it too sweet, but I enjoyed it.
Made in USA
Dolcetto Petites Lemon Wafer Bites, .7 oz (85 cents)
These lemon wafers are delicious. They are crispy wafers, filled with a sweet, lemon-flavored creamy filling, not too unlike those in lemon cookies. They are full of flavor, and much lighter than a cookie. The packages are tiny, but at 100-calories they should satisfy your need for a bit of sugar. They seem to be made in Indonesia, and they have sugar rather than corn syrup.
Dilettante Toffee Crunch Truffle Cremes No. 39, 2 candies (70 cents)
These are nicely sized (perhaps even a little too big for a bite), and quite tasty – but I found them to be too smooth for my taste – I prefer more crunch. Definitely a nice treat, though. Each candy has 55 calories and they are made in the USA
Mombana Traditional Hot Chocolate, 1 envelope (70 cents)
I still haven't used it.
Enough for 1 8-oz cup. Made in the USA.
Divine Milk Chocolate Mini Pieces, 2 5 gram pieces (50 cents)
Nice, tasty chocolate.  Not exceptional, but a nice little treat.  They sell this occasionally at Grocery Outlet.
Tony Chachere's Original Creole Seasoning
, 2 sample envelopes (no value)
Available at Walmart for less than $3 for a 1 lb jar.  The samples are tiny and I can't imagine I can really try them, but maybe I'll sprinkle them on something.