I have never been to a Sprouts in person, but I've become quite fond of the supermarket since I subscribed to Instacart during the pandemic. Still, I hadn't ordered from there in long enough that I'd forgotten what things they had that I liked and disliked. Thus this post – to remind me of what to get again, and what to avoid. I'll be adding items to this review as we consume them. Note that the prices are Instacart prices.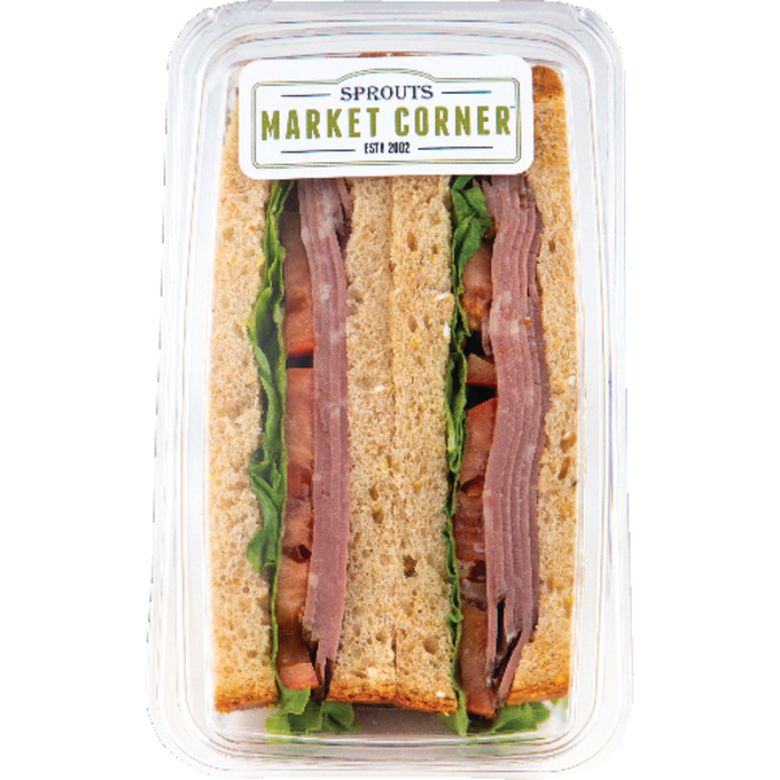 Sprouts Pastrami on Multigrain Bread Grab & Go Sandwich ($5 for an 8 oz sandwich)
I got this for my husband to replace a chicken salad croissant sandwich that wasn't available. He thought it was "ehh," the sort of pre-packaged sandwich he'd expect to get at a convenience store. He felt it was dry, probably as it doesn't seem to come with condiments. He wouldn't order it again.
Black Garlic Chicken And Mushroom Saute ($6/lb, tray was 1 3/4lb)
I bought this thinking it was a ready-to-heat meal, as others I've gotten at Sprouts. Instead, it's a ready-to-saute meal which requires you to dump the ingredients on a saute pan and cook for about 10-15 minutes. The chicken is raw, so don't be tempted to use your microwave.

While it was very simple, it was surprisingly tasty and served two people adequately. I'd get it again.
Chocolate Custard Twists ($4 for 6 small twists)
This has to be my favorite item from Sprouts. When we spent a month in Paris, a lifetime ago, my husband would go to the bakery every morning and get us a very similar pastry. These are just as delicious – which is amazing, giving how badly even the best American bakeries do at imitating French pastries. At 70-cents each for the pretty small pastries, this is not a cheap treat, but mostly because it's just impossible to eat just one. Still, they are great so get them!
Lakewood Organic Pure Orange Fresh-Pressed Juice Not From Concentrate ($6.5 for a 32 oz bottle, on sale for $5)
I'm always in the quest for the best commercial orange juice – something that tastes as close as possible to fresh squeezed but that I can buy already squeezed. Unfortunately, fresh squeezed OJ is not available at any of my local supermarkets, though they do have it at the Saturday's farmer market. Alas, we don't always make it.

So far, my favorite commercial orange juice is Costco's Kirkland Signature Organic Orange Juice. However, the last two times I've gotten it, it tasted like it was already going bad – I'm sure you know what rotten oranges taste like, and this was half way there. So I've been looking for an alternative – I'll give Kirkland another try in winter, but it's obvious the OJ can't handle the summer heat.

Unfortunately, Lakewood Organic Pure Orange Juice suffers from the exact same problem. The lid may say the juice doesn't expire until 2023, but it already has the tell-telling bitterness of OJ going bad. It is also extremely sweet. I don't know if this is a consequence of it being almost rotten, or if it's made this way to hide the rotting flavor. Either way, it's initial taste is disgustingly sweet, and its finish rottenly bitter. I would not buy it again and I have half a mind of writing to Lakewood and asking for a refund.
Clara's Kitchen Chile Verde Breakfast Burrito ($5 for 10 oz burrito)
I had ordered the Clara's Kitchen Cheese & Bean burrito but this is what Instacart brought me instead. My husband ended up eating it and he was quite disappointed. He felt it had very little flavor. He wouldn't have it again.
Reds Organic Cheese Quesadilla Burrito ($3.3 for 5 oz burrito, on sale for $2.5)
I got this and other Reds burritos for my cheese-and-bean-burrito loving teen daughter and it was a bust. She liked the tortilla well enough, but didn't like the filling, it just tasted wrong for her. Won't get it again.
Sprouts Cheese Puffs and Cheese Curls ($2.3 for 6 oz package, on sale for $1 each)
Sprouts versions of cheetos are not bad. They seem to have less of an intense flavor than the brand name, and less annoying orange powder to get all over your hands, but they are tasty enough. The puffs are, IMHO, better than the curls. I'd order the puffs again, particularly at the sale price.
Roast Beef ($13/lb)
This was pretty generic deli roast beef, which means it was perfectly acceptable without being remarkable good. I'd buy it again.