Posted: March 23, 2019 |
Author:
marga
|
Filed under:
Food Items
,
Meal Kits
|
Tags:
Freshly
,
Refrigerated Meals Reviews
|
Leave a comment »
Here are my reviews of my final two weeks of my Freshly subscription.
Rating 8/10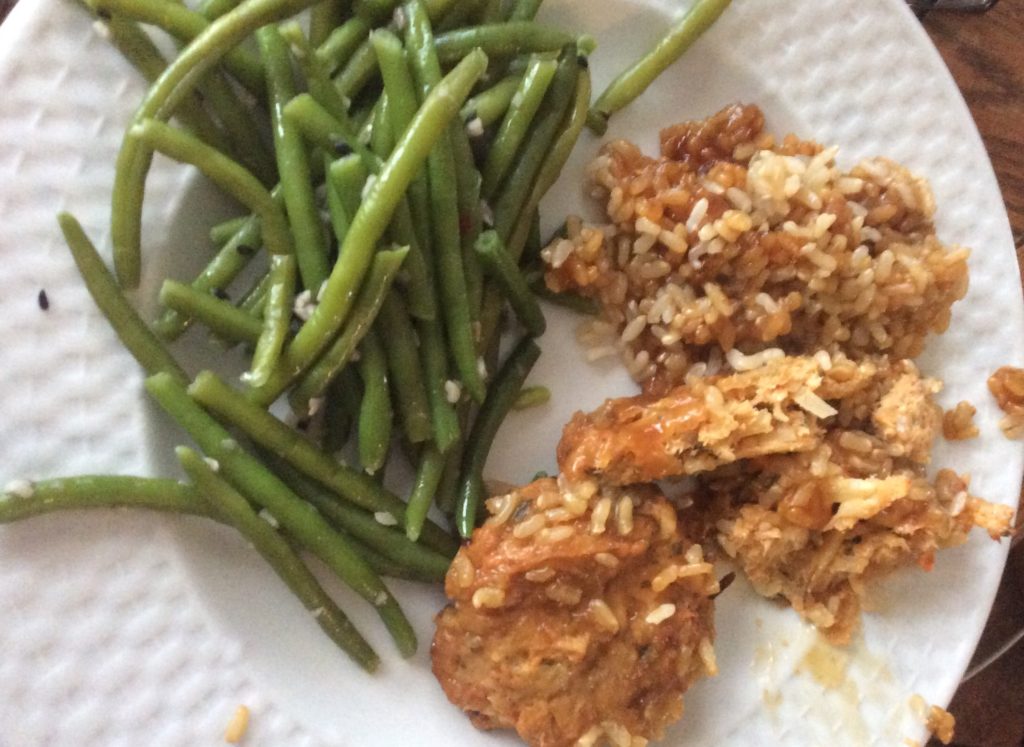 I got this meal for my husband – who, unlike me, likes salmon – and he liked it quite a lot. He liked the spice on the beans, and thought the rice & salmon was very flavorful. It was supposed to be salmon cakes with rice, mind you, but one of them came completely apart as I transferred them from the microwaved trade towards the plate.
I think the fact that you don't need a knife to eat this meal is also a plus in terms of taking it with you to work.
This meal had 460 calroies, 20 grams of fat (4 saturated), 54 grams of carbs, 12 g of sugar and 560g of sodium, which is relatively low for Freshly. Only 18 g of protein, though.
Rating 4/10
This was, by far, the worst Freshly meal I got in my first week. The chicken was tough and dry and the ranch sauce was pretty bland and tasteless. I'm not sure how you get Ranch sauce wrong – maybe when you are trying to make it healthier, but it was just so blah.

The cheddar broccoli cakes were only marginally more flavorful.
The meal had 500 calories, 20 g fat (7 saturated), 33 g of carbs & 9 sugar. It had 48 g of protein.
I paid a little under $7 for each of these meals, with a special offer.
---
Posted: March 19, 2019 |
Author:
marga
|
Filed under:
Meal Kits
|
Tags:
Freshly
,
Refrigerated Meals Reviews
|
Leave a comment »
These are my reviews of two more Freshly meals
Rating 7/10
BBQ beef (or pork or chicken) is all about the sauce. This one was fairly good, though not among our favorites. It was sweet and tangy, probably more of the latter than we like. My husband, all in all, liked it more than I did. I found it just too sweet. Like most of the sauces we've encountered in Freshly meals, this one was too runny as well.
The cornbread was fairly good as well. It was probably less sweet than I like it, but it was just right for my husband.

Now, personally I don't think this was any tastier than other refrigerated BBQ meat meals offered at the supermarket. But if you're already subscribing to Freshly, it's not a bad meal to include in your order.
This meal has 560 calories, and 30 grams of fat, half of which is saturated. It has 51 grams of carbs, including 19 grams of sugar and 760 mg of sodium (1/3 of your daily allotment). I wouldn't say it's exactly healthy – but I chose it.

Rating 7/10
My daughter and I split this meal. She got the chicken, and I got the mashed potatoes and mushroom mix that was probably meant to be eaten with the chicken.
She was happy enough with the chicken. I tasted it and found it dry, but that's what I would expect from a microwaved chicken breast. It would have been far tastier if it was a thigh. The mashed potatoes, OTOH, were delicious. The mushroom mixture was tasty as well, it had a bacony/smoky flavor and I'm sure it'd have gone great with the chicken.
This meal has 470 calories, and 24 grams of fat, 9g of which are saturated. It has 31g of carbs, including 5g of sugar and 700 mg of sodium (almost 1/3 of your daily allotment).

The ingredients in this meal you wouldn't use if making it yourself include natural shiitake flavor.
I paid a little under $7 for each of these meals, with a special offer.
---
Posted: March 15, 2019 |
Author:
marga
|
Filed under:
Food Items
,
Meal Kits
|
Tags:
Freshly
,
Refrigerated Meals Reviews
|
Leave a comment »
Despite all the different companies offering meal kits out there, I wasn't able to find any that had enough offerings in their menu that appealed to me this week. I thus decided to finally give Freshly a try.

Unlike other companies, Freshly doesn't send out meal kits – rather, they sell refrigerated meals – basically an upgraded version of TV dinners. They have 30 varieties, each with one serving, but the menu doesn't seem to change weekly.
Last night, only my vegan daughter and myself were hungry enough for dinner, so we tried two of the kits. They were pretty good.

Garden Veggie Bowl
Rating 7/10
This, as far as I can see, is the only semi-vegan option offered by Freshly. It does contain honey, which my daughter wants to start avoiding – a fact she didn't share with me until after I made this order. In any case, she ate it and she enjoyed it. Indeed, this was one of her favorite meal kit meals.
The meal is basically a quinoa bowl with veggies: peas, sweet potatoes, radishes and cauliflower. She didn't like the radishes, though, and there was only one piece of cauliflower. It has a vinaigrette dressing made of oil, vinegar, orange and lemon juice, honey and spices. This was a pretty filling meal and she didn't finish it. It was a rather substantial meal as well – clocking at 580 calories and 34 grams of fat, but it had quite a lot of fiber and protein as well. She'd have it again, if I didn't let her know it had honey in it. In all, she'd prefer to make her own bowl and add more cauliflower.

Heating the meal required microwaving for 2 minutes and then resting for another 2.
Steak Peppercorn
Rating 7/10
This is the only steak meal that Freshly offers. It's not too surprising as steak can both be expensive and it's hard to keep its quality through pre-cooking and microwaving. Freshly did a fairly good job in this case, though it definitely didn't taste or had the consistency of a freshly made steak. The flavor was a little off, but I tend to be a purist about my steaks and usually prefer them unadorned by sauces or spices.
The steak was sent cooked medium rare, though I'm sure you can microwave it for an extra minute if you want it more cooked. It had enough juice to bleed into the plate.
The mashed potatoes were pretty tasty as well, sinfully so. They were too thin for my taste. They might have been gummy if not that thin, but the flavor was excellent.
I don't like green beans, so I served these to my husband who was not hungry enough for a meal of his own, but was happy to get "something" for dinner. He thought they were OK. I wasn't particularly hungry myself, so I was satisfied with just the meat and potatoes. In all, I think this meal is sized pretty correctly.
It took 3 1/2 minutes to heat up this meal in the microwave, and 2 more to rest.
I was surprised that this meal had both less calories and fat than the vegan one (480 calories & 27 grams of fat), though, of course, it has much more saturated fat (12 g vs 3g).
In all, this is a meal I'd have again though I wouldn't feel compelled to.
I paid a little under $7 for each of these meals, with a special offer. They normally cost $10 each. I think at $10, they are probably overpriced. You can probably get something tastier for lunch from a restaurant for about that much. At $7, they heat the right balance between what a refrigerated meal would cost at the supermarket (and none of the ones I've had, have been that good) and what takeout costs.

---