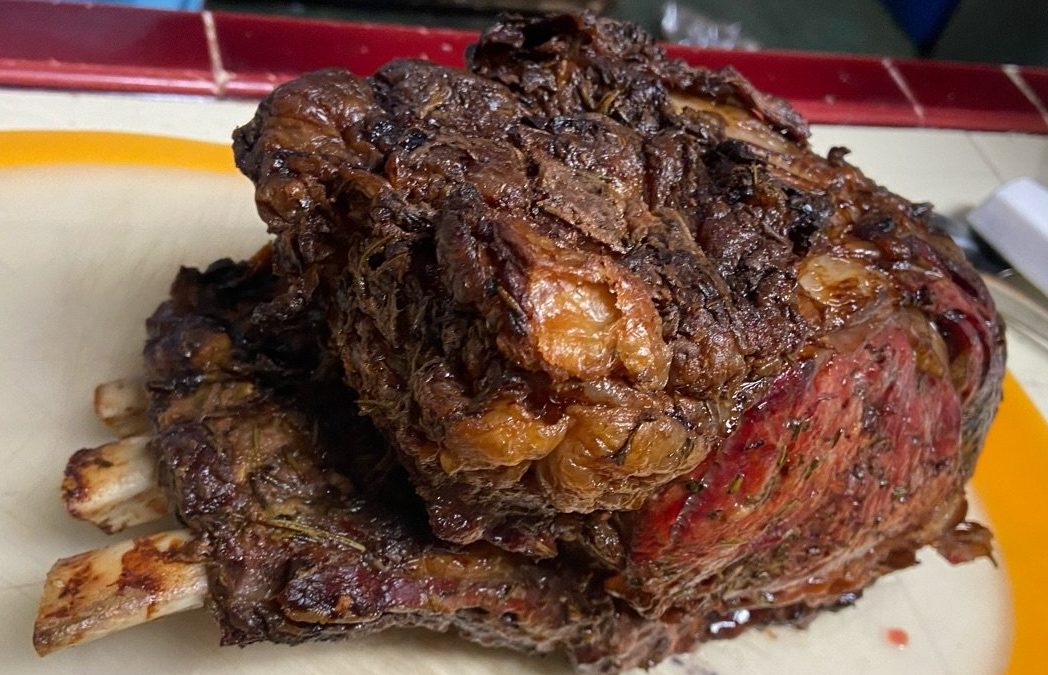 This year, I made a standing rib roast for both Thanksgiving and Christmas. The 2-rib Thanksgiving roast was bought at a local butcher. It was expensive, so much so that my husband hid the total price from me to not give me a heart attack. Still, we had had a similar roast from that butcher 16 years before and he had dreamt about it every since, the Pandemic Thanksgiving seemed like a good time to revisit it. We all loved it. My husband rated it a solid 8.5-9 in a 10 point scale.

When time came for making our Christmas menu, both of them requested a prime rib roast again. I wasn't thrilled about cooking the same thing, and there was no way I was going to revisit that expense – but when I saw that Raley's had the equivalent cut for $6/lb I decided to give it a go.

I will admit that I was apprehensive. These days you a chuck or eye of roast costs about that much. But Raley's advertised the meat as being choice grade, so I figured why not? I was pleasantly surprised.

Even though I kept the meat in the fridge until its "sell by" date, the roast was very good, tasty and tender. Not as much as our uber-expensive Thanksgiving roast, but much more than it had any right to be for the price. My husband gave it a 7/10. I would not hesitate to serve it to guests.
And I just might, because it seems Raley's has sales on prime rib every year around the holidays.

Finally, Raley's advertised its roast as "Beef Ribeye Roast, Bone In" which confused me for a while. I knew that butchers call a prime rib roast devoid of bones "ribeye roast", but I thought that if it had the bones it was called "prime rib" or "standing rib roast". So I spent a fair amount of time researching this. You can do the same, but for all extents and purposes, if what you want to make is prime rib or a standing rib roast, this is the same thing by another name. Do remember that "prime" can refer both to this cut, but also to the grade of meat. Prime grade beef has greater fat marbling than choice grade meat, which has itself more marbling than "select", a grade that seems to have disappeared from supermarkets in the last few years.