Posted: March 6, 2019 |
Author:
marga
|
Filed under:
Meal Kits
,
Recipes
|
Tags:
Blue Apron
,
boneless chicken
,
kale
,
salad dressing
|
Leave a comment »
Rating 8/10
I got this meal kit for to make for Crispy Chicken Schnitzel with Mashed Potatoes & Creamy Mustard-Dressed Kale for my non-vegan daughter and me, but I ended up eating it mostly by myself: my daughter ended up with other plans. No matter, I saved the chicken breast for her for tomorrow and I'll make her some fresh mashed potatoes with potatoes I had at home.

This is a meal that is more like disparate components than one full meal. The components all work with each other, don't get me wrong, but you could substitute any of them for something else and the meal would still work. I'm not sure if that's good or bad.

The chicken schnitzel itself was good – but it wasn't really a schnitzel. The breast pieces were skinless and boneless but they had not been flattened – nor were there any instructions to flatten them. Moreover the cooking times given were for a thick piece of breast. The chicken was fine, but it would have likely been juicier and more enjoyable if it'd been flattened first. The flavor was OK, but not extraordinary given that there was no seasoning beyond salt on the breading. Commenters suggest adding onion and garlic powder to the flour, I'd also add dried oregano or fresh chopped parsley to the egg.

UPDATE: It turns out that the schnitzel part was my fault. Blue Apron had sent me boneless chicken thighs for this recipe, and the chicken breasts for another one. I didn't look closely and just assumed both were chicken breasts and ended up using the wrong cut.

The apple slaw that accompanied the chicken was also good, but it didn't really improve the chicken substantially. I also ended up with way too much slaw.
The mashed potatoes, which are simply mixed with olive oil and salt, were below average. The olive oil flavor was too strong. My vegan daughter didn't like them. Personally, I think the recipe should have had you mix half the ghee with olive oil to fry the schnitzel, and use the rest of the ghee with the mashed potatoes. Commenters also suggest adding a couple of crushed garlic cloves to the potatoes.

The real star of the meal was the kale, however. It was dressed with a "creamy mustard dressing" which is just Dijon mustard and mayo, mixed with honey and salt. It was delicious – I don't even like kale but I ate the whole thing (my daughter didn't want to even try it, and I figured it'll be soggy tomorrow). I'll definitely try this dressing on other stuff (recipe below).

All the ingredients for this kit were there and they were fresh. I love that Blue Apron includes ghee for cooking rather than relying of you having butter at home (as HelloFresh does). And I also loved the container for the egg.

The only mild inconveniences is that it's winter, and I don't keep my house particularly warm, so the honey was crystalized by the time I went to use it. The ghee was also pretty hard. Don't refrigerate either when you get them – at least in winter.

The meal was all in all satisfying – though I did eat all the kale by myself. It was also relatively quick and easy to prepare. And it's also easy to recreate at home with your own ingredients.
I paid $12.50, or $6.25 per serving, for this kit with a sign-in promo. It was worth this but probably not the $20 regular price.

Creamy Mustard-Dressed Kale
2 oz kale or fresh baby spinach leaves
1 Tbsp. mayonnaise
1 Tbsp. honey
1 tsp. dijon mustard
salt to taste
If using Kale, remove central stem from kale leaves, then cut into strips.

in a medium bowl, whisk together the mayo, honey and mustard. Season. Add kale and mix well, using your hands to make sure all the leaves are coated.
---
Posted: February 18, 2019 |
Author:
marga
|
Filed under:
Meal Kits
|
Tags:
Blue Apron
,
kale
|
Leave a comment »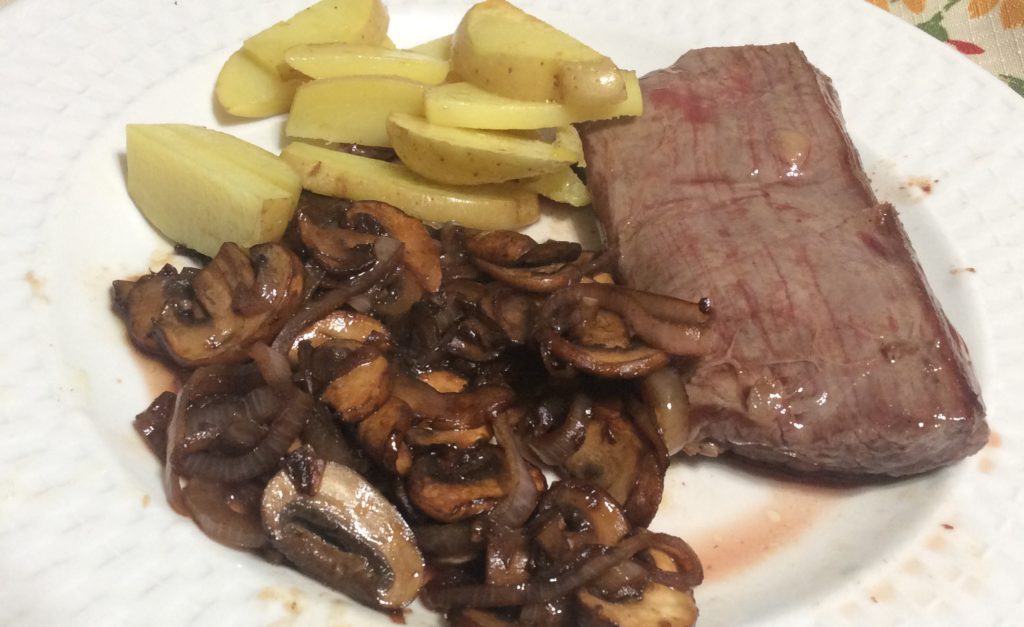 Rating: 6/10
While some of the meals offered in meal kits are complicated, some are fairly straight forward. This meal kit for Seared Steaks & Roasted Potatoes with Balsamic-Glazed Mushrooms & Shallot was pretty much what it sounds like, though with a couple of extra twists that made it nicer than expected.

First, the good part. My daughter enjoyed the kale very much (recipe below). It was cooked in ghee and mixed with creme fraiche. I guess i'll have to pick up some of that at the supermarket. I also liked the mushrooms with balsamic vinegar *on their own*. But their sweetness didn't really compliment the beef or the potatoes.
The roasted potatoes were really the star of the meal. They were absolutely delicious – crunchy on the outside and melt-in-your-mouth soft inside. I think the trick was that I cut them a little bit in advance and put them in a bowl with water and lemon juice. I dried them before putting them on an aluminum-foiled covered baking sheet and sprinkling olive oil and salt on them. I had forgotten to pre-heat the oven, so I cooked them in a cold oven. Again, they were great.

The flank steaks, however, were a huge disappointment. They tasted like cheap, low quality meat. One of the reasons I've enjoyed subscription kits is that many of them provide higher quality meats than those I can find at my supermarket. That is most definitely not the case here. This may very well be the reason why I wouldn't stay subscribed to Blue Apron long term. We'll have to see if their other meats are as disappointing.
I got this meal kit with a discount, so I paid $12 for the kit or $6 per serving. It was an adequate amount of food.
Creamed Kale
Makes 2 small servings
1 Tbsp ghee
2 garlic cloves, minced
2 cups of chopped & de-veined kale leaves
salt & pepper to taste
1/4 cup of water
1 Tbsp crème fraiche
Heat ghee on a saute pan over medium-high heat. Add garlic and cook until fragrant, about 30 seconds. Add the kale leaves and season with salt & pepper. Cook, stirring occasionally, until the leaves wilt. Add the water, reduce heat to medium, and continue cooking until the leaves are soft and the water has evaporated. Remove to a bowl, taste and adjust seasoning.


---