My daughter was home for the weekend from college and she wanted Ethiopian for dinner. I decided to give Awazi Kitchen a try because it was rather new and got great reviews on Yelp. It was fine, though not special enough to make me eager to come back.
The restaurant is located in downtown Oakland, next to what used to be Le Cheval. It has a large square room, with socially distanced tables. It was completely empty at 5 PM on a Saturday. This would be a good place to go with a crowd, as it has the space and at least at that time, you wouldn't have to worry about sharing air with customers outside your group (I'm writing this review during the pandemic).

Their menu is pretty straightforward and serves the usual Ethiopian dishes you can get at most Ethiopian restaurants. You can order online and you can specify how you want your dishes made – I asked for two to be made mild and they complied.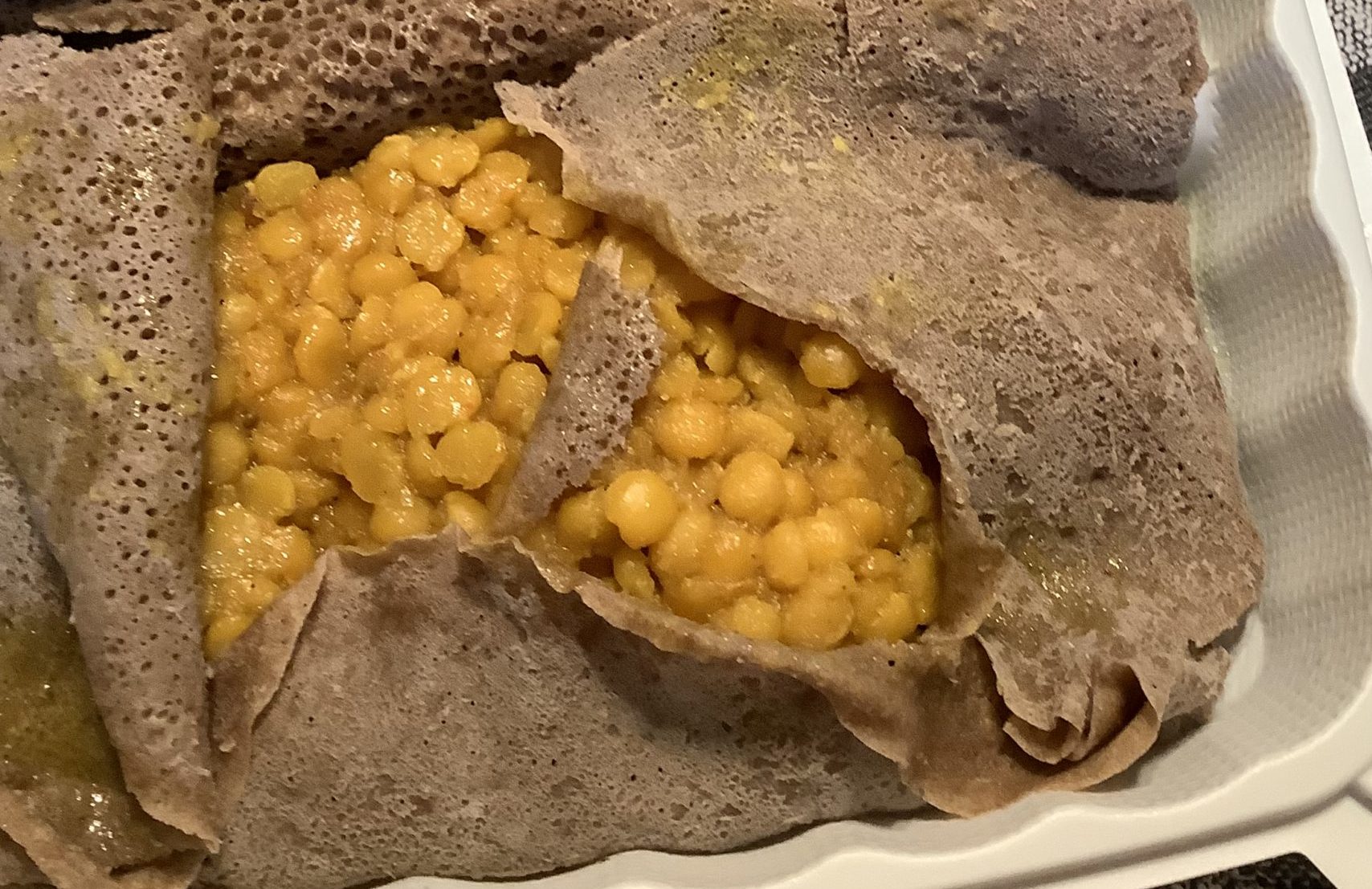 We ordered the Kik Alicha (yellow split peas in a mild sauce, $13.3), the Gored Gored (beef cubes in sauce – $16.6) and the Meat Combo ($18), which included Doro Wot, Yebeg Alicha & Beef Wot. All the meals came with cooked vegetable sides and plenty of injera. I'd bought another portion of injera just in case, but it was completely unnecessary.
Both my husband and daughter were happy enough with their dishes – which tasted pretty much like you would expect. The wots were far less spicy than at other Ethiopian restaurants, however. The portions were generous and they both had leftovers.
I was less happy with my gored gored. Now, this is usually a raw meat dish, but in the menu description at Awazi Kitchen it said you could have it rare or medium-rare. I chose medium-rare but what I got was raw meat. I don't necessarily have a problem with raw meat, but the beef cubes were too tough and chewy to be able to be eaten raw. If you are going to do a raw dish, you really need to use very tender meat – this wasn't it. Fortunately, I was able to solve this problem by transferring the meat to a pot, adding some water and simmering it for about 10 minutes. It was pretty good then, but I would not order this dish again at Awazi Kitchen.
Awazi Kitchen
1009 Clay St
Oakland
(510) 817-4155
https://awazi-kitchen.business.site/