---
Bulgogi Nachos
---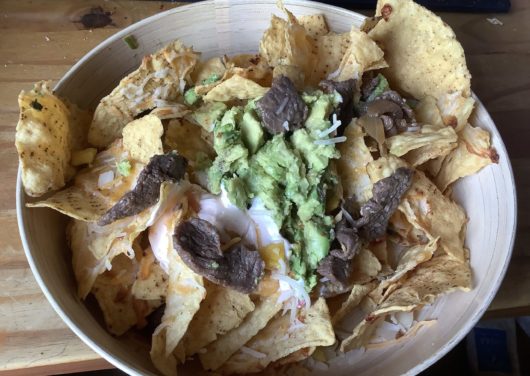 I was curious as to how well bulgogi beef would work with nachos, and I'm happy to say better than expected. The sweetness of the beef is a bit unexpected here, but the mayo sauce ties it well together. The recipe below doesn't have measures because nachos are a very much eyeball recipe. One baking sheet worth of tortilla chips can feed one or two depending on how hungry you are. Of course, this recipe is to be topped by whatever you want. I used the ingredients below, except for the kimchi (which I don't like) and the cilantro (which I forgot). I also neglected to dice the bulgogi, but it would work better if it had been chopped.





Bulgogi Nachos

Ingredients

Tortilla Chips
Mexican-style shredded cheese
sour cream
mayonnaise
lime juice
bulgogi beef, diced
mashed avocado or guacamole
pico de gallo
kimchi, chopped
cilantro, chopped

Directions

Preheat oven to 350°F. Line one or two baking sheets with aluminum boil. Layer tortilla chips on the baking sheets. Sprinkle shredded cheese on tortillas. Bake until the cheese melts - 5 to 10 minutes.

While the chips are baking, in a small bowl mix together equal quantities of mayonnaise and sour cream. Mix in as much gochujang as needed to reach your desired level of spiciness. Add a squirt of lemon juice and mix.

Place the tortilla chips on a bowl, top with the bulgogi, mayo sauce, avocado, pico de gallo, kimchi and chopped cilantro, as desired.
Adapted from several recipes.
Do you have a comment on this recipe? Please make it here
---
K-Mexican Recipes | Marga's International Recipes | Marga's Best Recipes | Marga's Food Blog | E-mail
---