---
Stobhach Gaelach
Irish Stew
---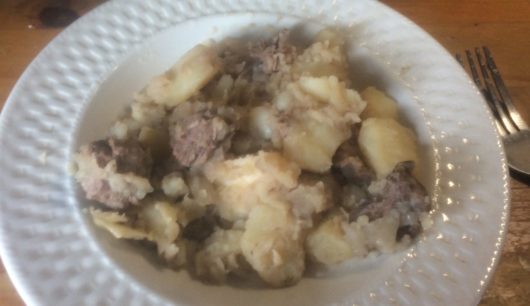 Irish Stew is an old, traditional Irish dish that likely dates to the introductions of potatoes in Ireland. The recipe couldn't be simpler: put lamb, onions and potatoes together with some salt, pepper and thyme, add water and let it cook slowly. Innovations such as the use of carrots or turnips, parsley and using ale instead of water appear to be more modern.
I decided to go for this traditional method, but used beef instead of lamb due to family preference. The meat and potatoes cooked perfectly. The flavor was homey and comforting. Not high cuisine, by any means, but perfectly good home fare.




Irish Stew

Ingredients

6 russet potatoes, peeled and cubed
3 large onions, peeled and sliced
3 lbs stew beef or lamb, cubed
salt, pepper and dried thyme to taste

Directions

Preheat oven to 350°F.

Place half the cubed potatoes on the bottom of a dutch oven. Cover with half of the onions and then the meat. Sprinkle salt, pepper and dried thyme to taste. Cover with the remaining onions and then with the rest of the potatoes. Add salt and pepper to taste.

Add enough water to cover the potatoes. Cover the pot and bring to a boil on the stove over high heat. Once boiling, place pot in the oven and bake for 90 minutes.
Adapted from a recipe in Time-Life's Foods of the World: The Cooking of the British Isles
---
Irish Recipes | Marga's International Recipes | Marga's Best Recipes | Marga's Food Blog | E-mail
---