---
Pakora
---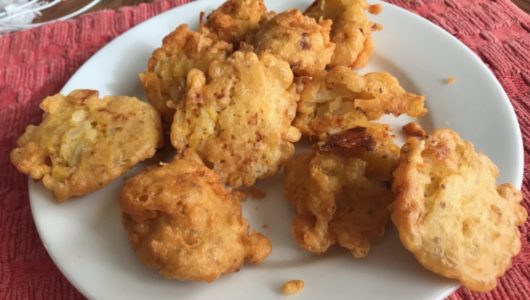 Pakoras are small fritters consisting of chicken, fish or vegetables typically coated in a thick chickpea flour mixture and deep fried. They are a mainstay at Indian buffets in America, where they are typically served with either a cilantro or sweet and sour sauce. The fish pakora at my local Indian buffet, Favorite Indian restaurant, are one of my favorite dishes ever.
In Haryana and northern India, pakoras can also be served in a thick gravy called a kadhi. While I wasn't interested in making that, this particular recipe for kadhi caught my eye because it included plain pakoras. Rather than having the chickpea flour mixture coat a meat or vegetable center, here the mixture (which also contains a small amount of onions and potatoes) is fried on its own. I was curious on how it would work out.
All in all, the plain pakoras were fine but nowhere as good as regular pakoras. They were a little too dry and dense, and while tasty, they didn't provide the contraposition of textures that makes pakora so great. Of course, these particular pakora are meant to be eaten in a gravy, which would provide the moisture they need.
Pakora

Ingredients

1 cup chickpea flour
1/4 cup chopped onion
1/4 cup of chopped potato
1 tsp ajwain seeds
1 tsp Indian red chili powder or cayenne pepper
1 tsp minced fresh ginger
1/2 tsp. baking powder
salt to taste
1/2 cup water
vegetable oil for frying

Directions

In a large bowl, mix all dry ingredients together. Mix in water.

Add enough oil to a frying pan or wok to deep fry. Heat it over high heat until hot. Add a tablespoon at the time of the pakora mixture and deep fry until golden brown, you may have to do this in batches. Drain on paper towells.
Adapted from a recipe at Indian Recipes
---
Haryanvi Recipes | Marga's International Recipes | Marga's Best Recipes | Marga's Food Blog | E-mail
---